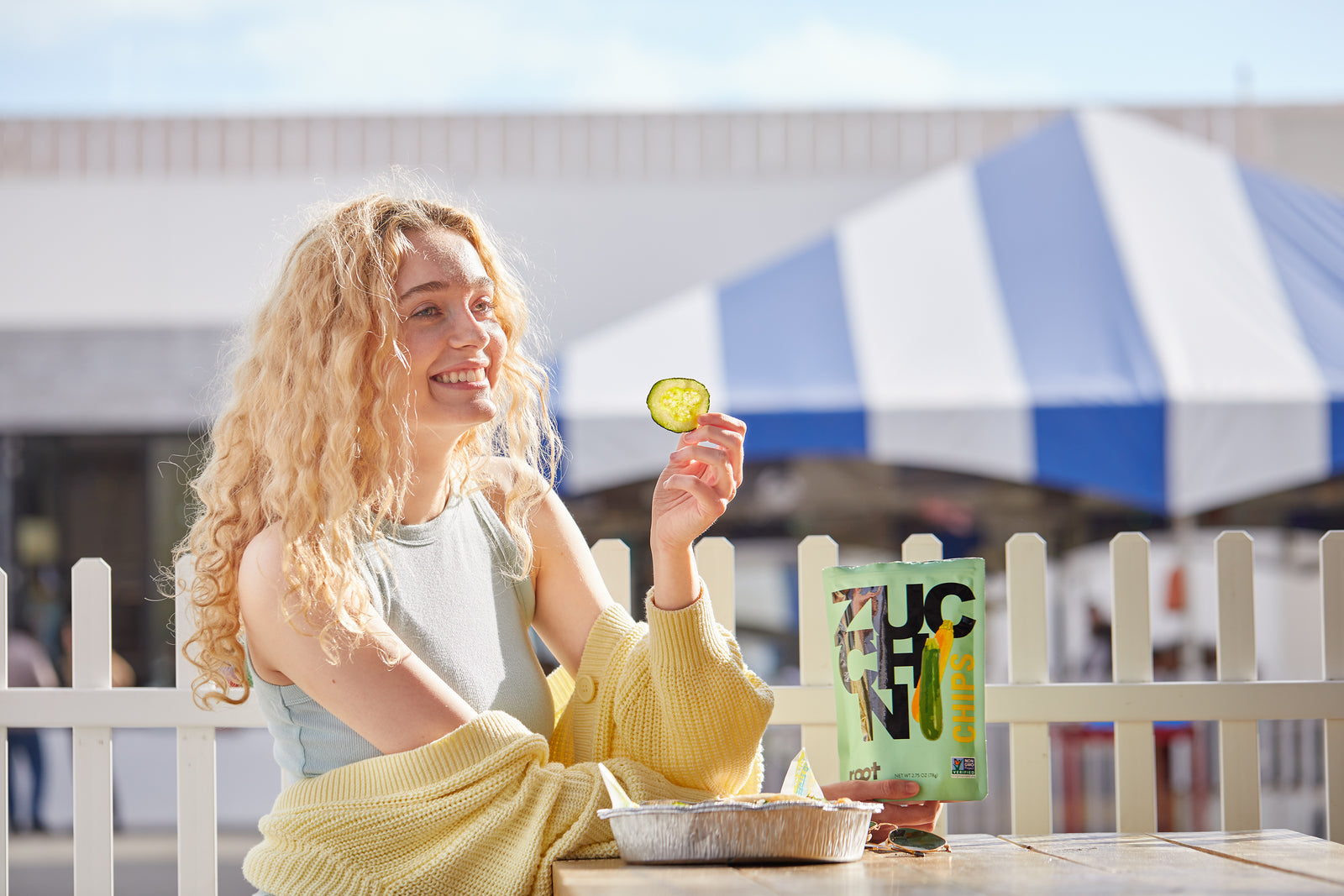 FAQs
Everything you wanted to know and everything you didn't about our chips. 
Our vegetables are grown on small family-owned farms, many of which have been in those families for several generations. Our relationship with many of these farms has also lasted several generations through our co-founder Josh's family. Not only do these farms care about their land deeply — they depend on it for their livelihood, and want to continue to have this resource for the next generation — but we also ask that they uphold our company standards by planting non-GMO seeds and using filtered water. Our company values are in sync with the farms' values: This is family farming, not big corporations looking to maximize yields by sacrificing product quality and destroying the earth's health. We don't use pesticides and we don't genetically modify our veggies. We treat our farming partners, and their land, with respect.
Take one (1) whole vegetable (ex. Roma tomato, taro root, bell pepper). Hand-slice, then blanch. Cook using a special low-heat technique. Remove from the sheet pan. Sprinkle with sea salt. Ta-da: veggie chip! Crunchy like potato chips (potato — a vegetable! See? It's not that crazy), but with way less salt and way more nutrients. 
The main ingredient is our high-quality vegetables. In the course of cooking, we use a little bit of oil, and a little bit of natural tapioca. Then, we sprinkle the chips with some sea salt as a finishing touch. No chemicals. When you look at our ingredient list, you'll recognize and be able to pronounce every word.
The kitchens cooking up our chips are located just a few miles away from the farms where our veggies are grown, meaning that the period of time between harvest and cooking is limited. This is very important to retaining the veggies' natural good taste, and something that sets us apart!
Tell us! Innovation is at the root (see what we did there?) of our company. A friend recently suggested turning lotus root into our next chip, and we think it's a great idea...
If you want to stock up on Root chips and save them for later, make sure to keep them out of the air and light. Our chips don't contain preservatives, and while their packaging minimizes air exposure, they're still considered a fresh food. We suggest you eat them while they're fresh!
Unless otherwise indicated, purchases made through our website cannot be returned or exchanged and are non-refundable.
We do not offer returns or exchanges due to dislike of product taste or texture.
For any defective product we are happy to replace the item(s) in question. Please contact us at hello@rootfoodsco.com within 7 days of your purchase date. 
We cannot refund, cancel, or edit an order once it leaves our warehouse and is in transit to its final destination.