Tomatoes: Why We Love Them & The Best Way to Enjoy Them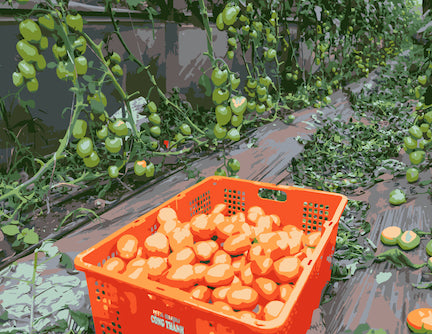 Tomato, tomahto, whatever you like to call it, we can all agree this fruit (or veggie, depending on who you ask) is in a league of its own. Eaten raw, tossed in a salad, over noodles, or simmered into a heart-warming soup; there's no shortage of what you can make with tomatoes. So much so, you could even eat them for dessert—yes, dessert—if you wanted. Versatile and delicious in every way, it's no wonder tomatoes are the most sought-after fruit in the world. And as if that weren't enough, they are good for you, too. 
Why Tomatoes Are the Way to Go: Their Key Benefits
Tomatoes are loaded with nutritional benefits, ranging from promoting healthy skin and good vision to potentially reducing the risk of heart disease and certain cancers. Listed below are 3 key benefits of why tomatoes are the way to go.
Antioxidant-Rich
Tomatoes are a major dietary source of lycopene (say it with us, LIKE-o-peen), a pigment that gives tomatoes their rosy color. But lycopene goes more than skin deep—it is a powerful antioxidant. Like most antioxidants, it fights off oxidative stress brought on by free radicals, which are linked to certain chronic diseases such as cancer, diabetes, heart disease, and Alzheimer's.
Jam-Packed with Vitamins
Tomatoes are chock-full of vitamins, particularly vitamin C, with one serving to account for approximately 40 percent of your daily recommended intake. Folic acid, potassium, and beta carotene also contribute to tomatoes' health halo. In conjunction with lycopene, these vitamins may potentially strengthen tomatoes' protective properties against heart disease and cancers of the prostate, colon, and rectum.
Low in Calories and Carbs
Tomatoes are one choice you can always feel good about eating. A single medium-sized tomato clocks in at just 20 calories and about 5 grams of total carbs, helping curb hunger pangs without added sugar, salt, or empty calories. And tomatoes won't just fill you up; they do so deliciously.   
Getting the Most out of Tomatoes
One of the things we love the most about tomatoes is that there are so many ways to make them shine. They are wonderful on their own or dressed with salt, pepper, and a drizzle of olive oil. Plus, they lend themselves to all sorts of dishes, from pasta to salad and more. This is all to say that there are many ways to transform this nutritious ingredient, and you should enjoy it however you like. 
But, personally, we like our tomatoes cooked down, and better still when done in some oil. Few methods bring out the fullest potential of tomatoes better than this one. It intensifies the flavor of tomatoes, especially when they're perfectly ripe, to begin with. Flavor aside, part of the attraction is knowing we're getting the most nutrients from every bite. As it turns out, cooked tomatoes have far more lycopene than garden-fresh ones.
According to one study, heating tomatoes at 30 minutes at 140° F can increase absorbable lycopene content by a whopping 35 percent. Experts speculate that cooking breaks down the cell walls of tomatoes, releases more lycopene, and in turn, allows our bodies to absorb them more easily. Puréeing, crushing, or mashing tomatoes also have the same effect: all the more reason to experiment with recipes that involve these processes.
Another tip to further increase lycopene absorption? Some research suggests pairing your tomatoes with fat sources, like avocado, cheese, and olive or veggie oils. Lycopene is lipid-soluble, which means it is better absorbed into the body when it's eaten with—you guessed it—fat. More research is needed to determine the amount of fat that is optimal for increased lycopene absorption, but it's wonderful news for us, nonetheless.
You Say Tomato, and We Say "Yes, Please!"—7 Ways We Like to Enjoy Them
We will welcome tomatoes in any way, shape, or form, but as we mentioned before, we have our preferences. Here are seven ways that put tomatoes in the spotlight, including a classic soup, an Italian-inspired pasta, and a tomatoey snack that involves no cooking. 
1. Slow-Roasted Tomatoes
Bathe chopped tomatoes in a mixture of olive oil and salt, then roast in the oven for 2 hours at 300° F. For an extra-sweet take, sprinkle the tomatoes with a pinch of sugar before roasting in the oven to enhance their natural sweetness.
2. Tomato Soup
Few things are more comforting than a warm bowl of tomato soup. In a large bowl, stir tomatoes and their juices, chicken broth, sugar, salt, and pepper. Allow it to simmer for 30 minutes before serving. Just add a grilled cheese sandwich to complete this heartwarming meal.
3. Tomato and Bell Pepper Salad
Up the ante on lycopene, and make a tomato and bell pepper salad. Just toss roasted tomatoes and bell peppers in olive oil and balsamic vinegar and serve it on a bed of garden-fresh leaves. Top it off with a sprinkling of Parmesan, or if you're feeling fancy, goat cheese. 
4. Avocado Lettuce Tomato (ALT) Sandwich
This is a healthier take on the ubiquitous BLT. Just spread one side of each bread slice with butter, and place avocado, lettuce shreds, and grilled tomatoes between. Toast both bread slices, butter-side-down, to give you that satisfying crunch in every bite. 
5. Spaghetti with Tomato Sauce
Combine tomato chunks, their juices, butter, and onion halves in a pot. Sprinkle with a pinch of salt and let it simmer for 30 to 45 minutes. Stir occasionally, and mash softened tomato chunks as you go. Toss with pasta and serve with cheese if you'd like—and who wouldn't?
6. Pizza Margherita
In a food processor, blitz together whole tomatoes, a splash of olive oil, and a sprinkle of salt. Spread the sauce over pizza dough, add cheese, and scatter basil leaves over the top. Bake until the pizza dough is golden brown and the cheese is bubbling. Chef's kiss!
7. In Chip Form
If cooking isn't on the agenda, you can still have your tomatoes and eat—no,
enjoy
—them, too. The
Root Foods Tomato Chips
retain the essence of this beloved summer produce. Apart from sea salt to coax out the tomatoes' sweet-and-savory flavor, these chips only contain what the name implies. They're cooked low and slow in canola oil, resulting in crunchy tomato slices that retain their nutritional benefits—which is something you can't say about regular potato chips.
---